A new Meme just launched today and this is hosted by Mel and her Mom. There is a theme to this meme but it's up to you if you follow the theme or not. You can visit the host or Mel's blog by clicking the badge below. Let's walk down memory lane by sharing your past experiences and memories that you want to relive.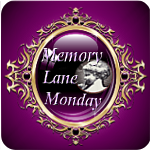 I arrived here in the US in 2007 but it was only in 2008 when we really put a Christmas and decorated the place to have some spirit of Christmas. Like some people say, Christmas is for children, and nativity. Christmas is about sharing, caring, loving and a celebration of life. Each one of us has its own definition of Christmas. The most common thing we do on Christmas is sharing in the form of gift giving. This week theme for this meme is Christmas Presents. I haven't send any presents to my family back home because I'd rather send money for them to be able to buy what they want. And besides, it's too expensive for us to send packages and I'm kind of paranoid with out post office back home.
As for my family here, husband and I started sending Christmas presents in 2008. Our first year of marriage was tough and we did not have anything to buy presents back then. We also send Christmas cards to few of our closest friends. Nonetheless, our family here are the ones very generous enough to send presents to the kids.

Share your Christmas presents story with us. Join now!