A shopping impulse that resulted to replacement. I was fooling around taking silly picture of myself that turned awry. I was standing in a wheeled computer chair about to take a snap of myself when the chair rolled away. Unable to balance that caught me off guard when I fell off the hard floor. I hit my head and back so hard plus the sudden impact I also dropped my digital Sony camera. I broke my camera because of my silliness. I did not feel pain at first and I wasn't worry about my broken camera. I was just feel humiliated and embarrassed of my action. The Samsung Camera that shopped secretly became the instant replacement. Both of my point and shoot camera that I could carry easily are broken. I have DSLR camera but it's too bulky to carry around.
Consequently, this Samsung Camera (White) was a good buy. I was gonna hide this from husband but because I broke the Sony camera and I had to use this camera for blogstuffs. He also received the box on the mail and saw me using it. He asked what was in the box but did not asked too much about how I got this camera. I bought this Samsung WB150F SMART 14.2MP 18X WI-Fi Digital Camera (White) on eBay for $129.00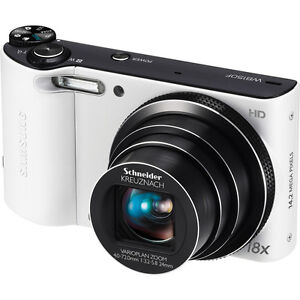 Product Description;
Samsung's WB150F SMART Long Zoom Digital Camera (White) separates itself from the status of a mere point-and-shoot with WiFi functionality for instant sharing and "cloud" storage. When in a hotspot with the WB150F you can upload to social networking sites, sync the camera with other "smart" devices – such as a TV, phone, or tablet – and store files on the Microsoft Skydrive. It's easy; once you're in a WiFi hotspot, just connect using the camera's log-in browser. Additional features of the WiFi connectivity include the use of Auto Backup, for transferring your photos to your PC with a touch and the Remote Viewfinder, for operating the camera from your smartphone, among others.
When it comes to the camera's shooting specs, the WB150F sports respectable functionality, as well. A 14 MP CCD image sensor allows for capture of not only 14 MP still images, but also 720p (30fps) video. A 24mm Schneider wide-angle lens, with 18x optical zoom and Dual Image Stabilization, also helps you capture clear, precise images. And the 3.0″ (7.6 cm) LCD screen provides a generous platform on which to compose and review shots or scenes. Additional features include a full manual mode (A / S / M), Samsung's Smart Filter 3.0, and Live Panorama.