This post brought to you by Scotts Miracle-Gro. All opinions are 100% mine.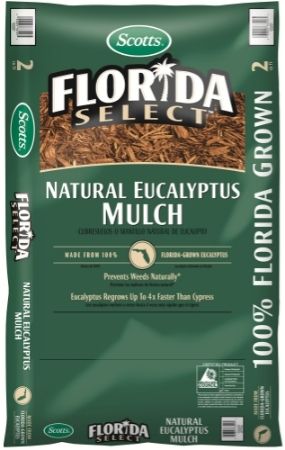 Have you done some gardening lately? Well, if you have, then you might want to try Scotts Florida Select Natural Eucalyptus Mulch in prepping your yard for the spring and summer season. This gardening product is made from 100% Florida-grown Eucalyptus. Eucalyptus Mulch is a sustainable Cypress alternative, grown in Florida, for Florida! I get jealous with the house that has plain surface and wide yards. Seems like it's easy to manage and cultivate the soil if it is plain. Meanwhile, having a yard that is steep and hill. It probably cost a lot of money if we hire a landscaping company to beauty it. Our front yard look so dull and boring. I need the following essential gardening products to jump start our yard. * Gardening tools like trowel, rake, spade, gloves and watering can. This can be use to remove the weeds and cultivate the soil. * Scotts Florida Select Mulch. It's our priority this spring to put a new mulch on our ground to prevent the weeds from growing again and also fro those stray cat to stay away from our yard. * Seeds and flowers. As I've said I want a lot of flowers in or front yard just like the one in the picture below. It was from my friend's yard. The flowers add beauty and colors to the surrounding.
This is our neighbor's yard. I like the landscaping and when they start doing some gardening they always plant beautiful flowers. This inspires me to do better with our front yard.
Moreover, I found some good yard landscaping inspiration online on how to make our yard presentable and it's a good steep yard solution. It had been a couple of years since we put fresh mulch in this yard and it definitely needs some landscaping or makeover. There are so much thing to do and need to prepare like buying the necessary gardening supplies from gardening tools to the soil and mulch to make our yard beautiful. I want to plant more tulips in our front yard and other flowering plant. Do you think I can transform our yard into something pretty like the one in the first picture?
First thing first, prepare the essential tools and supplies that you need in gardening. Beautify and protect your landscape with the finest quality mulch. Eucalyptus Mulch is the best option for your landscape because it is considered a renewable resource for sustainable gardening. Sustainably-harvested and plantation grown Eucalyptus is considered a renewable resource because it re-grows up to 4-times faster than Cypress. Naturally made from 100% plantation-grown Eucalyptus trees and 100% Florida-grown thus helps support local economy. Eucalyptus Mulch is guaranteed free from any construction, demolition, pallet, or other waste materials. Scotts Mulch is effective to prevent weeds, helps to maintain moisture and moderate soil temperature which great to create a groomed landscape all year long. Scotts Nature Scapes mulch comes in 3 different colors: Classic Black, Sierra Red, and Deep Forest Brown and they're natural forest products – no waste wood and come in a variety of textures. Scotts mulch product is good for gardening and landscaping. I would encourage you to visit their website when you shop for scotts mulch because there are variety of products that you might want to consider and include in your shopping cart. When you click on each product it includes details & usage as well as reviews from people who used Scotts Florida Select Mulch! What are you waiting for?