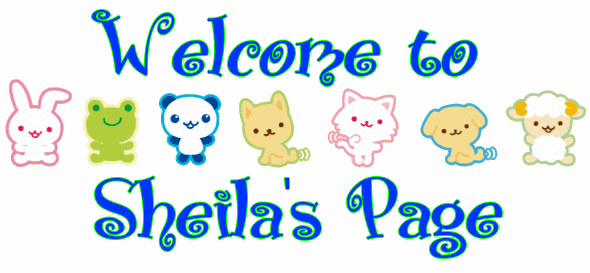 It's I, me, myself and Sheila!!! But you can call me tsang or shydub. A proud pinay mommy and wife, recently living in US with my wonderful family. I have two adorable kids Jake and Justine. I'm a teacher by profession and a trying hard super mom. :-) Now, I'm a certified blogaholic.
This is my own place where I can express my thoughts, rambling, rants and even my insanity about daily lives and experiences. My meditation and musing, anything and everything under the sun. There are times in our life that we feel so alone and lonely even though we know there is no reason to feel one. A time when I think of something beyond reach, explore my thoughts and things around me and dream of everything hard to achieve. In my own place I am the boss here, I can do whatever I want by expressing it out through writings. In my solitude I like to be alone, close my eyes and thinks of everything but nothing. In other words I can express here the weird side of me. In my serenity I just love to feel the peaceful noise of nothing and meditate in the darkness. It's my place, my palace, my dungeon, my corner and my very own spot. You can read it here the subjects I want to talk and share in my own simple words. Seat back and relax, enjoy your moments while I am enjoying mine.
Thank you for the visit I hope you enjoy your stay. Please come back soon. See yah!!!:-)
If you have any question, review, link exchange, suggestion or would like to advertise and other regarding this website, feel free to contact me at sweetshei03[AT]yahoo[Dot]com. OR follow me here.
Below are the web blogs that I manage and maintain. You can visit any of them and leave some comments if you wish to exlinks.
Simple Happy Life – Let's Talk and Learn About Life. Share Your Thoughts, ideas, opinions, experiences, points of view, family matters and parenting ideas.
Worth's World – Come See The World Through The Eyes of The Worthingtons'
J&J Milestones and Adventures– Documenting J&J's Developmental Milestones and Adventures
In Pursuit of Success – Family Journey and Our pursuit of the American Dream
Life Mix – People, Place, Food, Life, Meme and Random Ramblings
Shy's Mixed Thoughts – A Capricorn SAHM w/ Capricious Mind
Great Finds and Stuff – Find great deals and stuff in just one click!
Gossip & Shopping Corner – It's a Woman Thing! Shop till you drop!!! & brag about it…