The counting for Christmas had already started, so 20 days to go and its Christmas. All over the world celebrates Christmas or the holiday season perhaps. Lots of Christmas traditions I missed celebrating back. The Simbang Gabi, where at 4:00 o' clock in the morning we attend church and we will do that in 9 days. It said if your complete the 9 days of simbang gabi, your wishes will come true. I missed the traditional Christmas caroling, the exchanging gifts and more. Here in the US I don't know if simbang gabi is existed. We also have our own things to do here that is considered a tradition to my husbands family and my family back home and that is the Christmas tree. We decorate our house with christmas tree, decorations and read the story "t'was the day before Christmas to our kids" and of course watch the the Christmas classic movie "It's a Wonderful Life". How about you guys, How do you celebrate your Christmas?
Tell us your favorite Christmas tradition and join The 25 Days of Christmas Holiday Contest hosted by Travelin With Marie. The contest will run from December 1st through December 26th 11:59 PST. So, what are you waiting for? Head on over to Travelin With Marie and Join now!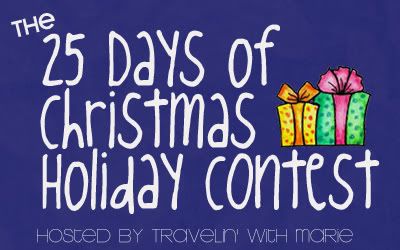 Prizes and Sponsors.
1st Prize:
$5 Paypal funds- Crayons n' Pencils
5000 EC credits – Wonderful Things in Life
5000 EC credits – Yashiro
3000 EC credits – The Wonder Mom
2000 EC credits – Life's Journey
2000 EC credits – My Crafts Stores Online
2000 EC credits – Blog de Manila
2000 EC credits – Mara's Personal Bubble
2000 EC credits – Mommy's Little Corner
2000 EC credits – A Woman Remembers
1000 EC credits – Meow Diaries
1000 EC credits – Take a Coffee Break
1-month 125×125 ad – Azumi ★
1-month 125×125 ad – Life Expressions
1-month 125×125 ad – A Momma's Journal
1-month 125×125 ad – Walking Newspaper
1-month 125×125 ad – Pinoy Medical Doctor
1-month 125×125 ad – World Travel and Vacation
1-month 125×125 ad – Pinay Mom
1-month 125×125 ad – Travelin' With Marie
1-month 125×125 ad – My Journey to Life
1-month 125×125 ad – Home Buddies
1-month 125×125 ad – isherrygo
1-month 125×125 ad – My Mom's Best
1-month 125×125 ad – iLUVcontest
1-month 125×125 ad – Sherry Rambling
1-month 125×125 ad – Bloguardian Hellsite: OVERCASHED
2nd Prize:
$5 Paypal funds – Cotton Candy Buzz
5000 EC credits – Nessa's Mumblings
3000 EC credits – The Fountain of Happiness
2000 EC credits – Momgen Craft Corner
2000 EC credits – Kaya Mo, Pinoy!
2000 EC credits – The Mommy Journey
2000 EC credits – A Simple Life
2000 EC credits – Random WAHM Thoughts
2000 EC credits – Bloguardian Hellsite: OVERCASHED
1000 EC credits – Mara's Appetite
1000 EC credits – This is My Blog
1000 EC credits – Wishing on a Falling Star
1-month 125×125 ad – Couple's Love Book
1-month 125×125 ad – Garden of Moments
1-month 125×125 ad – Latest Buzzzz
1-month 125×125 ad – Walking Newspaper
1-month 125×125 ad – Leilanie's 101 in 1001 Challenge
1-month 125×125 ad – Blog de Manila
1-month 125×125 ad – Fab Momma
1-month 125×125 ad – Yashiro
1-month 125×125 ad – Happy Thoughts Happy Tot
1-month 125×125 ad – Mine all Mine
1-month 125×125 ad – Lurvevertyhing
1-month 125×125 ad – Shopping
1-month 125×125 ad – Hotels For All
1-month 125×125 ad – Another Contest
3rd Prize:
$3 Paypal funds – Mara's Appetite
2000 EC credits – Moms…Check Nyo
2000 EC credits – My Life's Adventure
2000 EC credits – The Joy of Life Forever
2000 EC credits – Rewards Station
1500 EC credits – Pinay Mom
1000 EC credits – Philippine USANA
1000 EC credits – Mariuca's Perfume Gallery
1000 EC credits – Yummy as Can Be
1000 EC credits – Life's Sweets and Spices
500 EC credits – Elai's Haven
1-month 125×125 ad – A Shopaholic Diary
1-month 125×125 ad – Pinay in States
1-month 125×125 ad – Pinoy Medical Doctor
1-month 125×125 ad – The Latest Buzzzz
1-month 125×125 ad – Travelin' With Marie
1-month 125×125 ad – Kaya Mo, Pinoy!
1-month 125×125 ad – Philippine USANA
1-month 125×125 ad – Handy Reviews
1-month 125×125 ad – Online Scoop
1-month 125×125 ad – ibloagholic
1-month 125×125 ad – nameSherry
1-month 125×125 ad – heartrandom
1-month 125×125 ad – Sherry Contest
1-month 125×125 ad – A Woman Remembers
Special Prizes:
10 various postcards from United States – Travelin' With Marie
1 pair of earrings (Worldwide shipping) – Momgen's Corner
4 sets of mixed handmade cards – DarlingRose Paper Goods
$10 gift certificate to Etsy shop- DaisyBookworm