I always get free recipes from mydailymoment.com or MDM's Recipe of the day on the mail. This one looks delicious for shrimp lover people. You might wanna try this at your kitchen.
This recipe won't be prepared in vein. Rich in flavor and ingredients, it doesn't skimp on great taste. It's a seafood pasta that makes for one shell of a meal.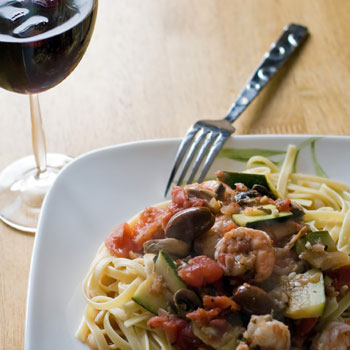 Ingredients
1 lb. peeled & deveined shrimps
3 tbsp. butter
8 oz. mushrooms, sliced
3 med. garlic cloves
1/2 tsp. dried rosemary, crumbled
Freshly ground pepper
1/2 cup heavy whipping cream
Salt to taste
4 oz. dried linguine
2 oz. Bel Paese cheese, cut into small cubes
1/4 cup chopped fresh parsley
Methods/steps
Melt butter in a heavy, large skillet over a medium low heat. Add garlic and mushrooms and a generous amount of fresh grated coarse black pepper. Cook until mushrooms exude their juices, stirring occasionally, about 5 minutes. Add shrimp and cook until they are starting to turn pink. Add cream and shrimp until sauce thickens slightly, about 3 minutes and season with salt. Meanwhile, cook pasta in large pot of boiling, salted water. Add oil to water to keep pasta from sticking together. Drain well. Add pasta and cheese to sauce and stir until cheese melts. Transfer to plates. Sprinkle with parsley and serve.